Business
A Fallen Dynasty Backs Sri Lankas Leader as Creditors Seek Answers
President Ranil Wickremesinghe has vowed to stabilize the nations economy. However, many sense a wider plot to revive the Rajapaksa family to power.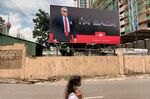 After fleeing Sri Lanka and spending nearly 8 weeks in self-imposed exile, former leader Gotabaya Rajapaksa returned this month to a freshly painted, heavily guarded colonial-style bungalow in another of the hawaiian islands swankiest neighborhoods.
Much has changed since demonstrators drove Rajapaksa from office in July, the climax of months of protests after record-high inflation and depleted currency reserves bankrupted a country with 22 million people.