World
America's Next Top Model's Top 5 Most Shocking Moments
From iPods to butterfly hair clips to celebs wearing skirts over their jeans on the red carpet, the early 2000s were a very different time.
It was also the era of America's Next Top Model (ANTM), the savage (but highly addictive) reality show that ran from 2003 to 2018. For 24 seasons (or "cycles"), aspiring fashionistas were put through a range of brutal challenges to prove they were model material, including posing with tarantulas and walking down a catwalk blindfolded.
But it's not just the traumatic trials or the wild wardrobe that people remember about ANTM, but the vicious burns dished out by judges including Tyra Banks, Janice Dickinson and Paulina Porizkova.
Despite ending almost a decade ago, ANTM is back in the public conscious, with viral clips calling out the show for it's problematic behavior, as well as for the brazen way it pushed unhealthy (and sometimes deadly) beauty standards on a generation of young people.
Although former head judge and creator Tyra Banks, who helmed the series until its cancellation, has expressed remorse about her behavior during the show's run, Janice Dickinson has recently doubled down on social media.
Her criticism of season one contest Robin Manning's weight has been making the rounds on social media—a rare instance where a judge was so mean, even Tyra clapped back, calling Dickinson "the problem with America" and accusing her of encouraging eating disorders.
Replying to a user comment asking if she had "any regrets about the things she said or did during her time as a judge?" In the Instagram clip Dickinson replies: "Uh, no, it was acting."
Here are just a few of ANTM's most problematic moments:
1. The time Tyra Banks told a contestant to tone down her 'lesbianess'
Tyra was less than impressed when contestant Kim Stolz described herself as "gay and really proud of it" during her audition for cycle five.
"I think there's a certain thing of being proud," the judge told the then-21-year-old.
"Like, I'm Black and proud, you know what I mean? But I'm not walking down the red carpet: 'I'm Black. I'm Black.'"
Unfortunately, Kim seemed to take Tyra's comments to heart, as in the next scene she says: "I need to learn that not everything needs to be expressed."
Since leaving the show, Kim has worked as a correspondent for MTV, written a book, and opened The Dalloway restaurant in New York with her wife Lexi Ritsch.
2. When Tyra mocked Dani for refusing to close the gap in her teeth
Before Georgia Jagger made having a diastema cool, Tyra Banks laughed at Dani Evans for not wanting to "fix" the gap in her teeth.
After returning from the dentist, where she had her teeth cleaned, Tyra told the 20-year-old she wouldn't make it in fashion without closing the gap.
"Do you really think you can have a CoverGirl contract with the gap in your mouth?" she asked.
"This is all people see," she said, pointing to her own perfect teeth.
In the end, Dani did get the gap closed and went on to win the show's sixth season. However, Tyra came under fire for her comments last year when the clip resurfaced on TikTok, especially as she advised cycle 15 contestant Chelsey Hurless to widen the gap in her front teeth just four years later. In 2010, Tyra told Chelsey that she "loved her teeth," comparing her to supermodel Lauran Hutton.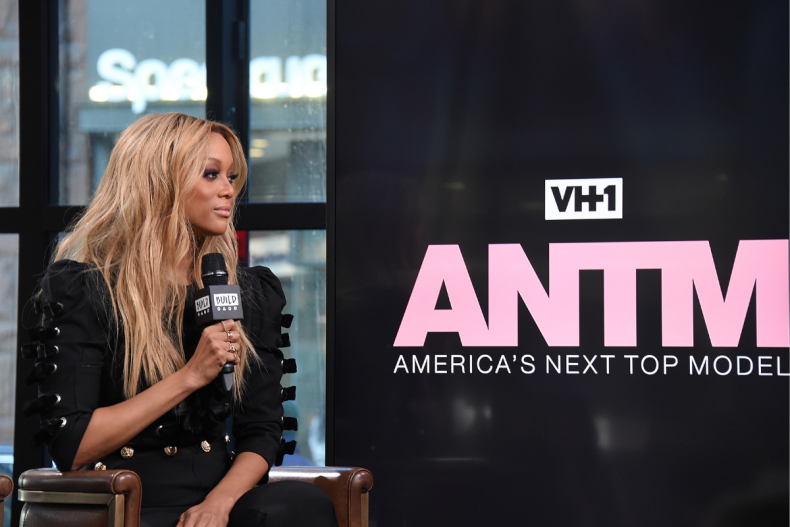 3. When a grieving model was forced to pose as a corpse
ANTM put not one, but two models through death-related challenges shortly after losing a loved one. After Kahlen's monstrous coffin shoot in cycle four, in series eight Jael was forced to pose as a corpse in a murder-themed challenge, despite just finding out her friend had died of a drug overdose.
The gruesome crime scene-inspired images—which depicted the contestants as murder victims—have since received backlash for glamourizing violence against women. Jael found the shoot difficult to cope with, and was bashed by Tara for not getting a "good shot."
Sadly, Jael passed away from breast cancer in 2018 at the age of 34.
4. The time Keenyah was touched without her consent—and blamed for it
Keenyah Hill found herself being victim-blamed by judges, crew members and fellow contestants in cycle 5, after standing up for herself against a male model who touched her without consent.
Throughout the episode, a male model called Bertini can be seen pushing Keenyah's boundaries, even asking her for a massage during hair and make-up. As well as the group ignoring her request for space while posing, Bertini audibly moans and touches Keenyah inappropriately, making her visibly uncomfortable. After Keenyah asked to stop the shoot, the director and his team invalidated her feelings, telling her to "go with the flow."
"I feel like a lot of pressure added onto me because I can end up being eliminated for not doing so well on this shoot because of his actions," she said.
Although proud of standing up for herself, fellow contestant Naima called it "unfair" of Keenyah to be "blaming someone outside of herself" for her shoot going wrong. Judge Nigel Barker agreed, criticizing the quality of the photos and telling Keenyah to "handle it" better in the future.
5. When London was eliminated from the series after gaining weight
Making an interesting career change from street preacher to model, Lauren "London" Levi appeared on the show in cycle 12. However, it was her weight gain that garnered the most attention from the judges. Despite just recovering from an eating disorder, the 18-year-old was criticized for gaining weight while staying in the Next Top Model house.
Creative Director Jay Manuel called her weight gain "a really shocking development," and unsurprisingly, London was eliminated that same episode.
At the time, she told E!: "When I went to the competition, I was recovering from an eating disorder, so my self-confidence was already kind of shaky because of my experience with my problem beforehand. And, I'm pretty sure it did show in my photo shoots."
Since appearing on the show in 2009, London has dropped out of the public eye.