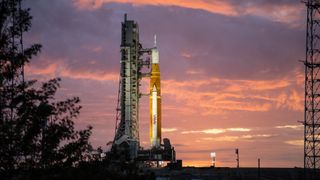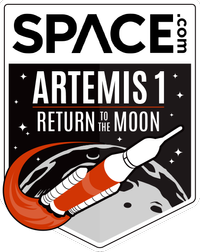 NASA's Artemis 1 stack on the pad before its planned Sept. 3 liftoff attempt.(Image credit: NASA)
It's official: NASA will indeed make an effort to launch its Artemis 1 moon mission this weekend.
Following a meeting today (Sept. 1), the Artemis 1 team gave the go-ahead to proceed with a liftoff attempt on Saturday (Sept. 3) from NASA's Kennedy Space Center in Florida. The highly anticipated launch is scheduled that occurs throughout a two-hour window that opens at 2: 17 p.m. EDT (1817 GMT); you can view it live at Space.com once the time comes.
"There is no guarantee that we will log off on Saturday, but we're gonna try," Artemis mission manager Mike Sarafin said throughout a news conference tonite (Sept. 1).
Related: NASA's Artemis 1 moon mission: Live updates
More: NASA's Artemis 1 moon mission explained in photos
Artemis 1 use a Space Launch System (SLS) rocket to send an uncrewed Orion capsule on a 37-day mission to lunar orbit and back. It'll be the initial mission for the SLS and for NASA's Artemis program, which aims to determine a sustainable human presence on and around the moon by the late 2020s.
Artemis 1 was originally likely to lift off on Monday morning (Aug. 29), however the mission team noticed an issue through the countdown: Among the four RS-25 engines that power the SLS core stage wasn't trying to cool off to the correct prelaunch temperature. Such thermal conditioning, attained by "bleeding" supercold liquid hydrogen propellant in to the RS-25s, aids in preventing a shock once the engines ignite, NASA officials have explained.
The Artemis 1 team couldn't troubleshoot the problem prior to the launch window closed, so Monday's attempt was called off.
Further analysis on the next day roughly suggested that the problem wasn't a significant one; the data pointed to a faulty temperature sensor in the affected RS-25 engine, associates said throughout a news conference on Tuesday evening (Aug. 30). They expressed confidence that Artemis 1 wouldn't be grounded for long, identifying Saturday because the next launch target.
Two more days of work and consultation have firmed up that conclusion, mission associates announced in this evening's news conference.
"We've convinced ourselves with out a shadow of any doubt that people have good, quality liquid hydrogen going right through the engines. There is no fuzz on that," said John Honeycutt, manager of the SLS program at NASA's Marshall Space Flight Center in Alabama. "We realize we had a negative sensor."
Replacing the sensor may likely require rolling Artemis 1 off the launch pad and back again to Kennedy Space Center's huge Vehicle Assembly Building. The team doesn't think that's necessary or desirable, so that they intend to leave the sensor set up and ignore its faulty readings on launch day, NASA officials said tonite.
The Artemis 1 team also viewed several other conditions that cropped up during Monday's countdown, including hook hydrogen leak and a crack in the foam that's area of the SLS core stage's thermal protection system. The leak has been fixed, associates said tonite. And the foam crack requires just "incremental risk acceptance," as does the engine sensor issue.
"We're more comfortable with our flight rationale and risk acceptance there," Sarafin said.
Another thing can keep Artemis 1 on the floor Saturday the notoriously fickle Space Coast weather. But things look best for a launch put on Saturday; Melody Lovin, weather officer with the U.S. Space Force's Space Launch 45 group, said in this evening's briefing that there surely is a 60% potential for good conditions when Saturday's window opens.
If Artemis 1 can't fly on Saturday, another opportunity should come on Monday (Sept. 5), mission associates said. And the elements looks promising on that day aswell, in accordance with Loving.
"Basically, the elements looks good," she said. "I wouldn't be shocked if you can find periods where we have been technically red for weather. However the important thing is that I don't expect weather to become a showstopper for either launch window."
Mike Wall may be the writer of "ON THE MARKET (opens in new tab)" (Grand Central Publishing, 2018; illustrated by Karl Tate), a book concerning the seek out alien life. Follow him on Twitter @michaeldwall (opens in new tab). Follow us on Twitter @Spacedotcom (opens in new tab) or on Facebook (opens in new tab).
Join our Space Forums to help keep talking space on the most recent missions, night sky and much more! And if you've got a news tip, correction or comment, tell us at: community@space.com.