Tech
Audi Has A Shocking Plan For This Electric Car Concept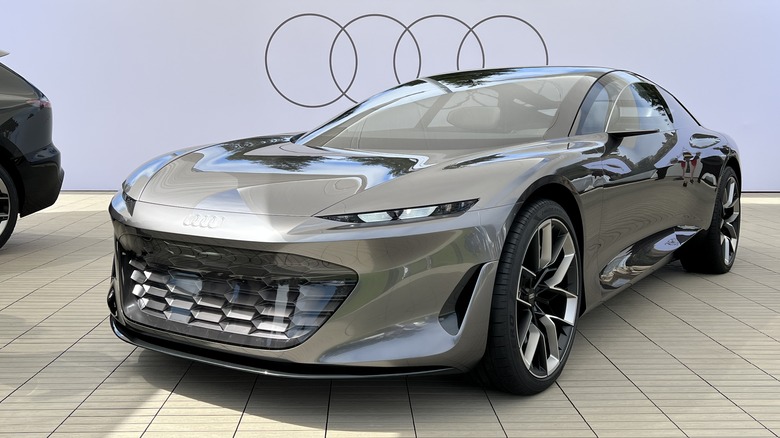 Chris Davies/SlashGear
It's often the things that look simple that can surprise you the most. That's not to say the Audi Grandsphere concept is drab, finished in the German automaker's favorite shade of metallic gray. It's just that, sandwiched between the "Transformers"-esque Skysphere with its magical stretching wheelbase, and the imposing Urbansphere that pairs minivan proportions with an ultra-lavish cabin, the all-electric sedan could be accused of being a little … normal.
Normality here is, of course, measured by degrees. On Audi's stand at The Quail, one of Monterey Car Week 2022's headline events, multi-million-dollar supercars crowd the parking lots as even more grandiose and exclusive vehicles are revealed for the first time. McLaren and Bugatti, hardly known for their restraint or affordability, have already sold the vanishingly small numbers of new models they're unveiling. Their public debut feels almost like an afterthought.
Viewed in isolation, the Grandsphere would be imposing. Longer than an Audi S8, the company's flagship luxury sedan, and shaped with no small nod to the wind tunnel, it's no video game-inspired single-seater coupe, nor a 16-cylinder last hurrah for internal combustion. Instead, it could be Audi's most important model in years.
Electrification That Finally Stands Out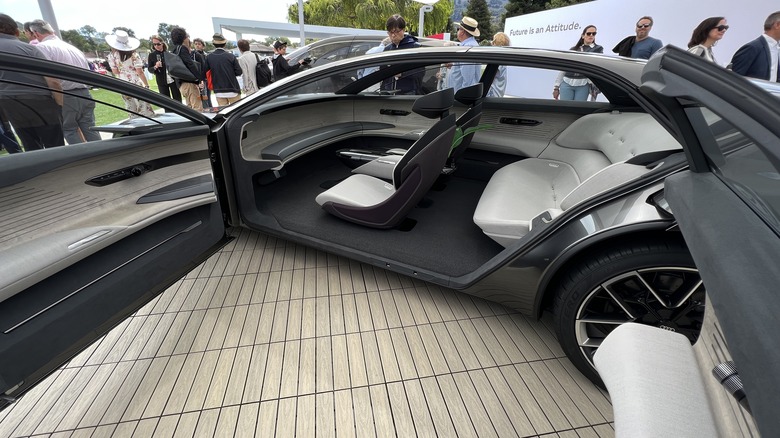 Chris Davies/SlashGear
Electrification isn't a new frontier for Audi, nor for the broader Volkswagen Group it's part of. The company already has several models in its e-tron line-up on sale, including several SUVs and a couple of slinky four-door coupes. The A6 e-tron Concept, meanwhile, was a barely-veiled preview of the electric sedan expected to be officially announced later in 2022, and on sale sometime in 2023. A shapely wagon version, the A6 e-tron Avant Concept, could well follow suit, though whether it'll be offered in North America remains to be seen.
What's stood out with all of Audi's electric models so far has been how closely they've stuck to the template laid down by the automaker's existing portfolio. Sure, the internal combustion engines have been ousted in favor of one or two electric motors, and the styling — particularly around things like cooling grilles — has been massaged, but the mental hurdle involved in going from, say, an Audi Q5 SUV to an Audi e-tron SUV hasn't exactly been a challenging one.
That, Audi said back when it launched that first all-electric SUV, was by intent. Its buyers, the automaker claimed, wanted familiarity along with their zero emissions. While other companies might push avant-garde styling or flashy interiors, the e-tron models felt in many ways just like regular Audis that happened to be electric, instead. The Audi Grandsphere — and, more specifically, the production plans that Audi has in mind for it — will absolutely buck that trend.
Concept Today, Production Mid-Decade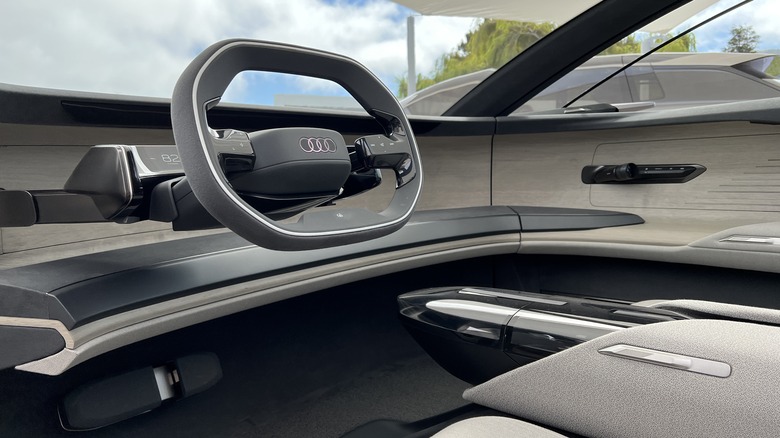 Chris Davies/SlashGear
On the one hand, the Grandsphere is a concept car. On the other, Audi is upfront that it has production plans for the electric sedan, with the current roadmap pegging it somewhere in 2025 or 2026. The exact positioning is undecided: It could live alongside current models like the S8, or it could eventually usurp them.
The exterior will, unsurprisingly, gain some necessary real-world details. The overhangs may be tempered a little, for instance, while lingering regulations mean things like camera side mirrors still aren't permitted on vehicles sold in the U.S. Inside, though, Audi is insistent that the Grandsphere's dramatically different cabin will largely be carried over.
That comes as more of a shock, frankly, because Audi's designers threw out a whole lot of interior norms along with the gas engine. The Grandsphere lacks traditional instrumentation: Instead, the graphics for things like speed, battery status, navigation, and more are projected onto the wooden panel in front of the driver, beamed from a hidden array built into the lower fascia of the dashboard. It's all very space-age but, Audi claims, it's also headed for production.
Level 4 Self-Driving, at Least in Theory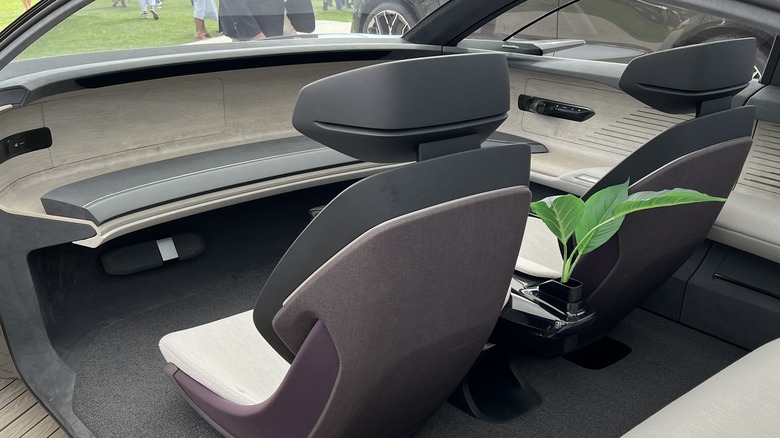 Chris Davies/SlashGear
The gauges aren't the only things missing: so, too, is the steering wheel. The Grandsphere does have one, it just folds away behind a wooden panel when the concept is in autonomous driving mode. Switch to manual mode, and it arches out on a cantilevered arm, the wheel unfurling upright while a minimalistic display built into its frame shows a few key metrics. Because the concept is built on the idea of drive-by-wire, where there's no mechanical connection between turning the steering wheel and the front wheels pivoting left or right (or, for that matter, the actions of the brakes or accelerator), the designers were liberated from such mundanities as a steering column.
Here, Audi is even more aggressive in its promises. The production version of the Grandsphere will be capable of self-driving, the automaker says, though whether that's the case at launch remains to be seen. Technologically, the handiwork for a Level 4 autonomous car — that is, a vehicle that can drive itself without human supervision — is all there, Audi promises. What's holding deployment back is everything else around it, from liability for crashes when vehicles are in driverless mode, to legislation in different countries and regions about the legality of handing control over to the computer.
It's possible, then, that the production Grandsphere (whatever that ends up being called) will support driverless operation in theory, but require a software update down the line to enable it. Perhaps first on certain stretches of road, like highways, which might be easier to control than a self-driving free-for-all. That's the theory, anyway. As we've seen before, the broader challenges of safe autonomous operation can stymie even the best of intentions
Legislation Has Upended Autonomous Plans Before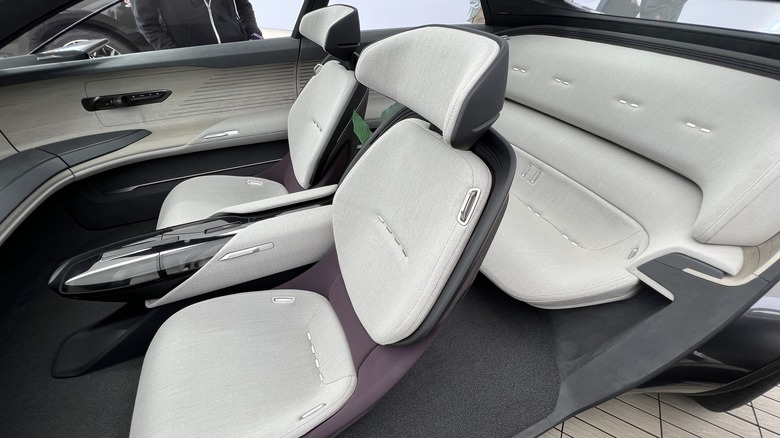 Chris Davies/SlashGear
Audi encountered that itself, when it abandoned Level 3 upgrade plans for its A8 sedan in 2020. Initially, the luxury sedan had been intended to debut the Audi AI Traffic Jam Pilot, a system that would take full control of the car on highways. The driver could remove their hands from the wheel, and their feet from the pedals, and indeed stop paying attention to the road altogether.
The technology worked, but the reality of deploying it did not. Audi launched the A8 without the system installed, but promised that it could be enabled later on in countries where Level 3 systems were legally permitted. Problem was, those laws didn't catch up with Audi's ambition.
Without a full legal framework, Audi execs said in 2020 that there was no way to push out Traffic Jam Pilot in a consistent, cohesive way. Further muddying the waters, Audi had intended to take legal liability when the system was active. Actually promising that when it didn't know the laws just wasn't going to fly.
A Lavish Cabin With MCM Detailing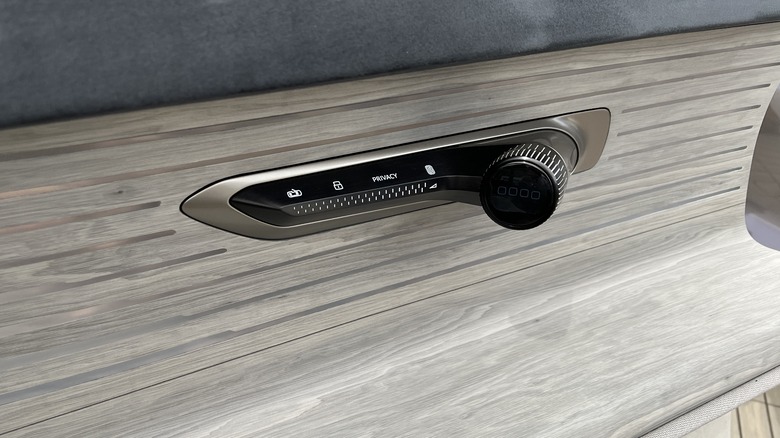 Chris Davies/SlashGear
When the Grandsphere-inspired production car finally arrives, then, it may or may not be capable of driving itself. That could mean that the trick steering wheel, with its disappearing mechanism, also may not make the cut. What feels more important, and more exciting, though, is the change in overall strategy for electrification that the EV symbolizes for Audi. No more hiding its green tech behind an unthreateningly familiar facade.
The concept is, in contrast, stark in its reductionism. It's not minimalist, per se: There's still plenty going on, from the construction of the seats which resemble mid-century modern lounge chairs and sofas, to the faintly twee vase integrated into the floating center console. However, it relies on the visual and physical tactility of its materials, and the discretion of mostly hidden technology, to aesthetically please.
For the most part, it works. You might long for a little more of the playfulness you see hints of in the Grandsphere, like the purple color reserved for the front seat structures. The rest of the color scheme feels a touch too restrained, like a boutique hotel room that's trying a little too hard. If Audi can dial the personality up, without also having to reintroduce so much of the visual cruft that modern vehicles are scattershot with, the end result will be a far more gratifying place than, say, the somewhat forced starkness of a Tesla cabin.
No More Quiet EVs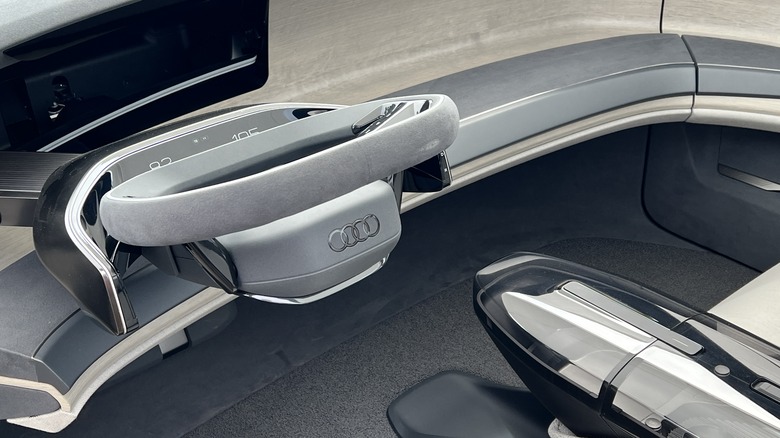 Chris Davies/SlashGear
Audi's vision is certainly present and correct, and it seems its enthusiasm for a high-end electric sedan is, too. What's left to figure out are the details: delivering the sort of range that would make its EV competitive with promising upstarts like the Lucid Air, for example. The new Premium Platform Electric architecture, or PPE, will hopefully help there, boasting significantly more driving from a charge than Audi's current cars deliver. When it comes to plug-in, too, there'll be advantages: 800-volt charging architecture should mean a 5% to 80% top-up in under 25 minutes, assuming you can find a 270 kW DC fast charger.
With its door-mounted control pods, hidden touch surfaces, and hyper-lavish detailing, the interior of the Grandsphere is a legitimately pleasing place to find yourself. It resonates in the same way that the idea of the Cadillac Celestiq does: excess, but with an undercurrent of eco-friendliness that assuages a little of the guilt that luxury cars inevitably come with.