World
Joe Biden Warns 'Extreme' MAGA Republicans Will Destroy Democracy
President Joe Biden has again slammed "MAGA Republicans" as a threat to democracy, under a week after facing criticism for delivering a fiery speech condemning former President Donald Trump and his most loyal supporters.
Biden warned that Trump-supporting Republican extremists could set the united states on a "sliding way to oblivion" throughout a Labor Day speech in West Mifflin, Pennsylvania, on Monday. The president said that the former president really wants to force the united states to "look backwards," while blasting Trump and his "extreme" supporters for refusing to simply accept Trump's 2020 presidential election loss.
"Among the items that is clear if you ask me is that new group headed by way of a former president, a former defeated president, we found ourselves in times where we're either gonna look forward or look backwards," Biden said. "And it's really clear which way [Trump] really wants to look. It's clear which way the brand new MAGA Republicans are. They're extreme."
"Democracy is actually on the line," he added. "You can not be a democracy once you support violence once you do not like the upshot of an election. You can't call yourself a democracy once you don't, actually, count the votes that folks legitimately cast and count that as what your location is. You can not be a democracy or call yourself one in the event that you continue steadily to do what they're doing."
Biden continued to state that "Trump and the MAGA Republicans" had already "made their choice" concerning the direction of the united states. He said that all of those other U.S. had to select between a chance to "create a better America" or "continue down this sliding way to oblivion."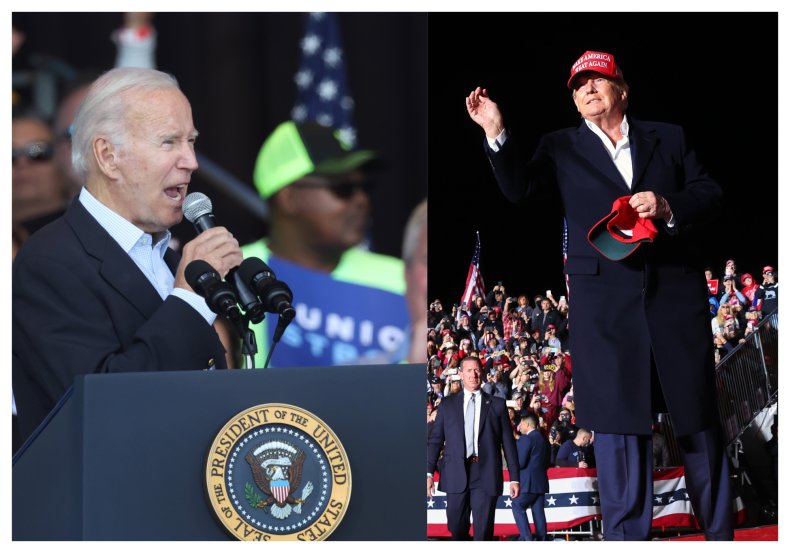 The president made similar remarks about Trump and his loyalists throughout a speech in Milwaukee early in the day. Throughout that speech, Biden stressed that "don't assume all Republican is really a MAGA Republican" and insisted he was only talking about those that embrace the "extreme ideology" of Trump.
Biden also took aim at a heckler who interrupted his speech in Milwaukee, telling his booing audience to "let [the heckler] go" because "everybody's eligible for be an idiot."
Throughout a speech in Philadelphia the other day, Biden said that MAGA Republicans present threats against "the quest for justice, the rule of law [and] the soul of the country."
On the next day, he told reporters he didn't "consider any Trump supporter to become a threat to the united states" and was instead talking about the threat posed by those that would use violence to overturn legitimate election results.
The president's comments quickly prompted backlash from Trump supporters and the former president himself, who claimed that Biden had "threatened America" and "should be insane."
Trump continued to lash out at Biden's speech throughout a rally in Pennsylvania on Saturday, calling it "probably the most vicious, hateful and divisive speech ever delivered by an American president" and accusing the existing president to be "an enemy of hawaii."
Newsweek reached out to Trump's office for comment.