Entertainment
Light Novel 'Isekai de Cheat Skill wo Te ni Shita Ore wa, Genjitsu Sekai wo mo Musou Suru' Gets TV Anime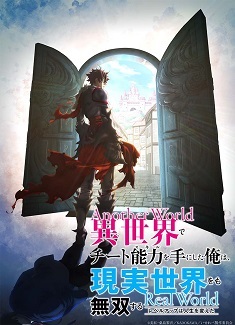 Kadokawa opened an official website for a television anime adaptation of Miku's Isekai de Cheat Skill wo Te ni Shita Ore wa, Genjitsu Sekai wo mo Musou Suru: Level Up wa Jinsei wo Kaeta (I Got a Cheat Skill in Another World and Became Unrivaled in The Real World, Too) light novel on Friday, revealing a special promo and teaser visual (pictured)


Miku began penning the adventure fantasy novel on the Kakuyomu website in March 2017, three years and three months after launching Shinka no Mi: Shiranai Uchi ni Kachigumi Jinsei (The Fruit of Evolution: Before I Knew It, My Life Had It Made!). Kadokawa began releasing the series with illustrations by Rein Kuwashima under its Fantasia Bunko label in December 2018 and will publish the 11th volume on Saturday.


Kazuomi Minatogawa (M3: Sono Kuroki Hagane manga) began drawing a manga adaptation on the Web DenPlay Comic website in December 2019. Kadokawa shipped the third volume on March 10.


Yen Press licensed both the light novel and manga in English and released the first volume on each on May 17 and 24, respectively. The second novel volume is planned for a December 13 release. The series has a cumulative 1.5 million copies of its volumes in circulation worldwide.


Synopsis

A chance to come back!


A mysterious door stands open, inviting a boy who's been brutally bullied all his life to take a courageous step forward into the unknown. On the other side, he finds a hoard of priceless artifacts and a world as filled with magic as it is with monsters. The most shocking revelation, however, is that he can bring whatever he wants back with him when he returns to Earth. It won't be long before this double life changes him forever… (Source: Yen Press, edited)


Special PV


Official site: https://www.iseleve.com/

Official Twitter: @iseleve_anime

Novel special site: https://fantasiabunko.jp/special/201812cheatmusou/


Source: Press Release


Isekai de Cheat Skill wo Te ni Shita Ore wa, Genjitsu Sekai wo mo Musou Suru: Level Up wa Jinsei wo Kaeta on MAL