World
McDonald's Customers Shocked to See Children Supposedly Working Drive-Thru
Nathan Pitts and Annette Cardwell were looking towards late-night McDonald's if they found the disturbing sight: small children behind the drive-thru counter.
"We were appalled and couldn't believe what we were seeing," Cardwell told Newsweek.
Pitts and Cardwell captured what appeared as if children working at the drive-thru in Louisville, Kentucky, on Sunday night. Pitt's video has been viewed 35,000 times on Facebook.
It isn't the very first time McDonald's has caught the limelight for workplace issues involving minors. In 2020, six McDonald's restaurants in Louisville found themselves in warm water over child labor violations, local news reported. Because the consequence of a U.S. Department of Labor investigation, a McDonald's franchisee paid nearly $50,000 for violating federal child labor laws.
This time around, though, it wasn't involving 14- and 15-year-olds.
"They got little kids working the drive-thru over here on McDonald's on Taylor Boulevard," he said while filming children travelling behind the window. "They ain't no more than 10 yrs . old…that is ridiculous. And you also wonder why the line is wrapped aroundbecause they got these little kids."
Cardwell said she was so embarassed that she didn't even want her food anymore, while Pitts remarked that one boy's head barely reached the window.
"Look how he's stirring up the…oh no…the tea!" Pitts said.
The couple demanded a refund, saying they refused to cover food handled by children.
McDonald's told Newsweek in a statement, "We have been alert to the incident and may concur that the minors shown in the video aren't employees of the restaurant; they're children of a few of our employees."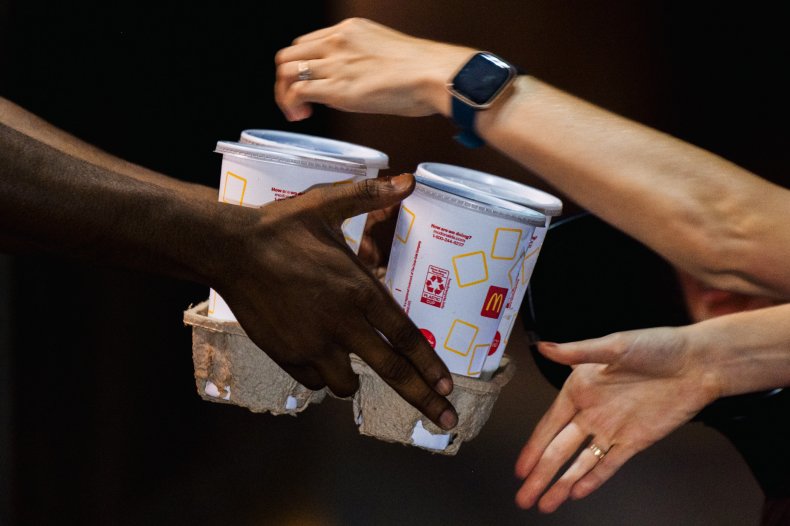 The spokesperson added, "While we have been proud to hire many parents and caregivers and recognize that sometimes kids may search for a parent's workplace, minors that are not employees aren't permitted behind the counter. We've taken action to make sure that our employees are reminded of our policies regarding visitors."
Still, the truth that the minors weren't utilized by McDonald's hardly soothed the clients, who still witnessed children preparing and serving their order.
"These were making drinks while wiping snot from [their] noses, while looking exhausted," Cardwell said. "Whenever we pulled to the next window the tiny girl handed me my drinks and proceeded to the trunk, while her brother was stirring up my tea."
These violations were announced soon after Manna Inc., a Kentucky-based restaurant franchising company, was hit with a $157,114 fine for similar violations. Federal investigators discovered that 14- and 15-year-olds were working beyond normal business hours at Wendy's and Fazoli's restaurants across nine states.