World
Meghan Markle Gets Warm Welcome From U.K. Fans Despite Media Criticism
Meghan Markle received a warm reception from the public, despite frequent vilification in the U.K. press, as she joined Prince Harry the new Prince and Princess of Wales outside Windsor Castle.
Meghan and her husband reunited with Prince William and Princess Catherine to make a surprise visit outside Queen Elizabeth II's residence in Windsor, outside London, on Saturday.
The four met with crowds of well-wishers who had lined the street to mourn the death of the U.K.'s longest-reigning monarch.
It was reminiscent of their public engagements together after Harry and Meghan were married in May 2018.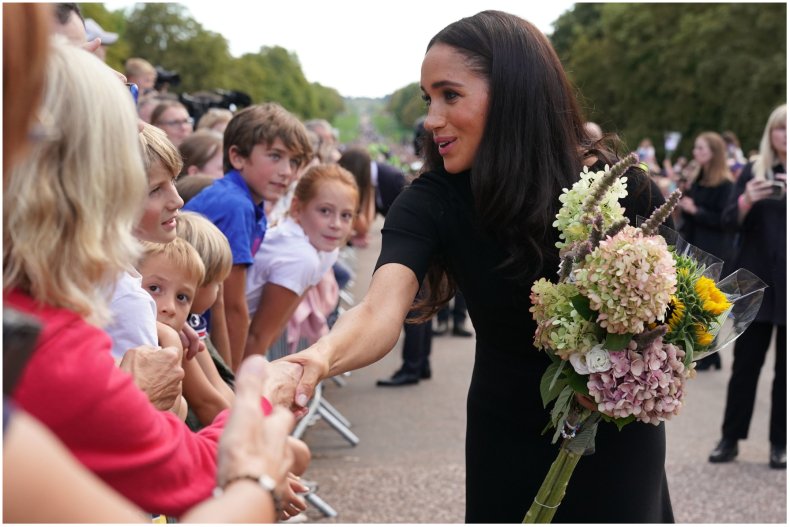 Meghan spoke with many of those who had gathered outside and was seen shaking hands and hugging a girl in the crowd.
It was the first time the two couples had been together since Harry and Meghan quit their royal duties in March 2020.
There had been speculation King Charles III had not invited Meghan to take part in events as she was not present with Harry when he arrived at Balmoral Castle where the Queen died on Thursday.
Rumors of a family rift have swirled in the media following Harry and Meghan's move to the U.S. where they have started several multimedia projects.
Meghan has frequently been vilified in the press and has been the subject of various op-eds and articles that have leveled numerous criticisms of her.
According to The Guardian, Meghan received more than twice as many negative headlines than positive ones.
The outlet found between May 2018 and mid-January 2020, that of the 843 articles in 14 print newspapers, 43 percent were negative and only 20 percent were positive.
Opinions shared on news channels and newspapers have continued to hit out at the Californian.
Philip Schofield, co-host of ITV's This Morning in the U.K. made comments on September 6 after Meghan had given a speech at the One Young World Summit in Manchester the day before.
He said: "There have been rumors that she [the Queen] and the Prince of Wales [heir-to-the-throne Prince Charles] are 'bewildered.'
"By what they are saying, and we've been very sympathetic and then sometimes we've been critical, but then you look at it and think 'oh, why don't you both just shut up'."
Polling undertaken by global opinion and data company YouGov earlier this year found that the majority of British adults were unsympathetic to Meghan and Harry.
When asked "from what you have read and heard, how much sympathy, if any, do you have for Prince Harry and Meghan Markle," 43 percent of the 2,627 people surveyed answered they felt "non at all" and another 22 percent responded that they felt "not very much."
Meghan has been outspoken about her experience with the Royal Family and took part in an explosive interview with Oprah Winfrey in March 2021 where she claimed to have faced racism from one of its members.
She claimed a member had expressed concerns about how dark her son Archie's skin would be when he was born.
Following the interview, a statement was issued on behalf of the Queen said: "The whole family is saddened to learn the full extent of how challenging the last few years have been for Harry and Meghan.
"The issues raised, particularly that of race, are concerning. While some recollections may vary, they are taken very seriously and will be addressed by the family privately.
"Harry, Meghan and Archie will always be much-loved family members."
Royal commentator Richard Fitzwilliams told Newsweek the Queen's death could potentially reset the strained relationship between Meghan and the Royal Family.
He added: "It was a surprise greeted by cheers. Reconciliation is the only thing that makes sense for the royal family, who have been weakened by the Sussexes attacks and for them, as they are philanthropists who rely on the royal family for their work and status.
"King Charles's message to them was affectionate in his speech. It was on William's initiative that they joined in public at Windsor.
"It was very welcome to see them in such a momentous week, but questions were being asked if Harry would be included in the ceremonies in the next week. It now looks likely."
But claims made in Harry's planned memoir could derail any reconciliation, according to the commentator.
Fitzwilliams continued: "The issue of his memoir hangs over the possibility of reconciliation with fears that anything said to him might be included.
"Meghan was bitter about the royal family in her recent interview in The Cut, this implied she might speak out and could say anything.
"In short, this could be very positive but we can't be sure. The Sussexes are unpredictable and these are extraordinary times."