World
Mural of Ukrainian and Russian Soldiers Sparks Fury: 'Highly Offensive'
A mural on display in the Australian city of Melbourne has been condemned being an try to distort the truth of Vladimir Putin's full-scale invasion of Ukraine.
The painting privately of a building in Kings Way in hawaii of Victoria's capital city shows a Russian soldier and a Ukrainian serviceman hugging one another.
The image was shared on the Instagram account of the artist Peter Seaton, when a short online video shows a bang and a mushroom cloud forming. Close to the clip, may be the message, "Want to folks of Ukraine. I am hoping we are able to find peace and end this needless bloodshed."
However the Australian Federation of Ukrainian Organizations [AFUO] said the image drew a false moral equivalence between your aggressor and the victim, promoted Russian disinformation and enforced on Ukraine an obligation to simply accept attempts to destroy it.
Stefan Romaniw, who's AFUO co-chair, said that the implication that Russian and Ukrainian soldiers only had a need to make peace with one another to avert nuclear war, was "highly offensive."
"The truth is, those will be the same soldiers that are murdering Ukrainians," he told Newsweek.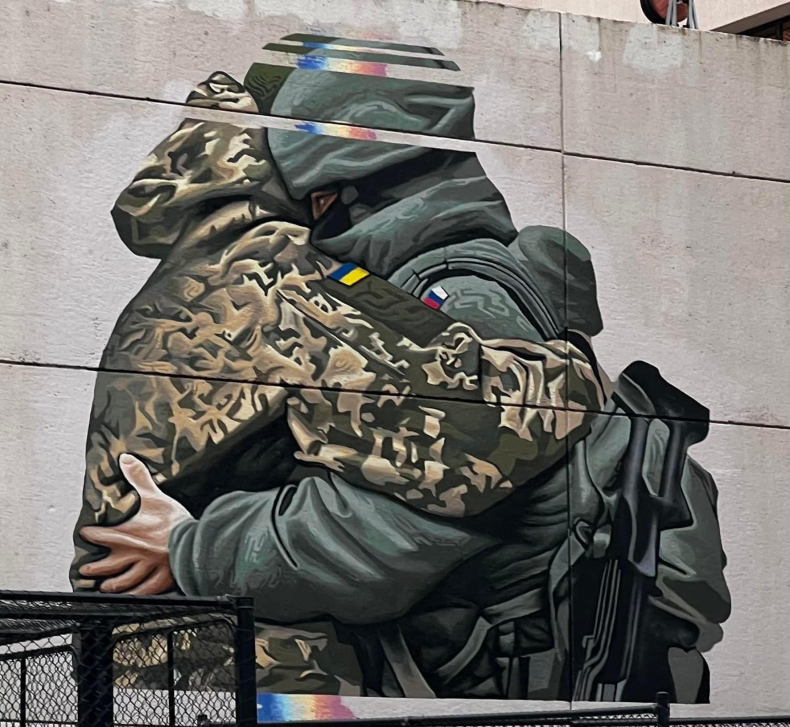 "What he's attempting to say is, 'let's gather and, and make up'. Well, that isn't likely to happen as the Russians are increasingly being the aggressors," he said.
Romaniw said the AFUO had approached Seaton previously to accomplish some Ukrainian murals which he previously declined.
After becoming alert to the task on Friday, he said the AFUO has written to Seaton and told him "we have been disgusted using what he's got done."
Romaniw expects there to become a strong reaction from the neighborhood Ukrainian community who lobby the town authorities in Melbourne for the mural to be removed.
Newsweek has contacted the Melbourne city council and Seaton for comment.
Kyiv's ambassador to Australia, Vasyl Myroshnychenko, tweeted that the mural was "utterly offensive to all or any Ukrainians" and that the painter "does not have any clue" concerning the Russian invasion of Ukraine" and said that "it should be promptly removed."
Business Ukraine magazine tweeted: "This remarkably tone-deaf mural in Melbourne whitewashes Russian genocide in Ukraine."
Chinese-Australian artist Badiucao tweeted to his 107,000 followers, "You will want to just paint Hitler hugging holocaust victims?"
Meanwhile, in a Twitter thread, Olga Boichak, a sociologist at the University of Sydney who tweets about wartime Ukraine, said that the image showed "false equivalency" that was "dangerous."
"It means that peace may be accomplished if both parties decided to lay out their weapons," she wrote. "Right now, most of us have an obvious notion of what would happen if Ukraine stopped fighting, which means this "art" delegitimizes the lived experiences of resistance."
"Unsurprisingly, similar tropes is seen on murals in Russiaforcing a victim and aggressor in to the picture on equal terms," she added.