Science And Nature
New satellite images reveal largest Pakistani lake overflowing dangerously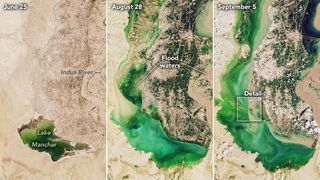 The region around Lake Manchar on July 25, Aug. 28 and Sept. 5, 2022, captured by NASA Landsat 8 and 9 satellites.(Image credit: NASA)
After weeks of extreme monsoon rains, Pakistan's largest freshwater lake started overflowing in early September, putting thousands of people vulnerable to losing their homes, new satellite images reveal.
The images, captured by NASA's Landsat 8 and Landsat 9 satellites, show breaches in the banks of Lake Manchar, a few of which were made intentionally by local authorities to avoid the overfilled lake from spilling into densely populated areas in the Indus River Valley.
The images show the pre-flood situation on July 25 and detail the growing extent of the flooding on Aug. 28 and Sept. 5.
Related: Satellite view reveals scope of apocalyptic flooding in Pakistan
Some 100,000 people surviving in several hundred villages scattered over the valley are in threat of flooding because of the breaches, NASA officials wrote in a statement (opens in new tab). The floods, referred to as Pakistan's worst in at the very least ten years, have killed a lot more than 1,300 people and injured thousands more. Over 1 million homes have already been destroyed and thousands of people are displaced.
Pakistan's Sindh province, where Lake Manchar is situated, is among the most severely suffering from the flooding. The region has recently received five times its average annual rainfall this season, NASA said in the statement. More rain is probable in the coming days, based on the U.K. weather forecaster Met Office.
The federal government of Pakistan declared a national emergency on Aug. 30, requesting international support to provide food, normal water and health supplies and assist with the affected communities.
Follow Tereza Pultarova on Twitter @TerezaPultarova. Follow us on Twitter @Spacedotcom and on Facebook.
Join our Space Forums to help keep talking space on the most recent missions, night sky and much more! And if you've got a news tip, correction or comment, tell us at: community@space.com.