World
Putin Mocked After Foreign Leaders Keep Him Waiting at SCO Summit
Russian President Vladimir Putin was mocked on social media marketing after footage emerged of him looking forward to foreign leaders at the Shanghai Cooperation Organisation (SCO) summit in Samarkand, Uzbekistan, this week.
Four separate photos from the summit shared on Twitter by BBC journalist Andrey Zakharaov, show the Russian leader standing before a Russian flag as he waits for the leaders of Turkey, Azerbaijan, India and Kyrgyzstan to reach and talk with him.
"The one who was deliberately late for meetings now turns up earlier. Something happened?" Zakharaov asked, in accordance with a translation of his tweet written in Russian.
Meanwhile, CNN journalist Bianna Golodryga retweeted Zakharaov and wrote: "Just what a montage."
"Putin, who includes a history of power trips by means of making foreign leaders await him (including Obama)…gets a taste of their own medicine. From the leaders of Turkey, Azerbaijan, India and Kyrgyzstan," she added.
Putin has been recognized to keep other foreign leaders waiting. The Russian president arrived one hour late to his ending up in Pope Francis in the Vatican in 2019. Per year earlier, he made former President Donald Trump await 45 minutes before a scheduled summit in Helsinki.
In July, a video of Putin looking forward to Turkish President Recep Tayyip Erdoan throughout a stop by at Iran went viral. The incident came after Putin was late to a 2020 ending up in Erdoan in Moscow, leading the Turkish president to sit back while he waited.
Giving an answer to a video of Putin looking forward to Erdoan at the SCO summit, Anton Gerashchenko, an adviser to Ukraine's minister of internal affairs, wrote: "Putin used to create everyone wait, now he could be the main one waiting awkwardly. Times changed."
Tweeting out an image of Putin looking forward to the president of Azerbaijan, Ilham Aliyev, at the summit, Shaun Walker, a journalist with The Guardian, wrote: "Awkwardly pretending to check on your phone because your date's late. Nevertheless, you don't possess a phone as well as your date's Aliyev."
Newsweek has already reached out to the Russian Foreign Ministry for comment.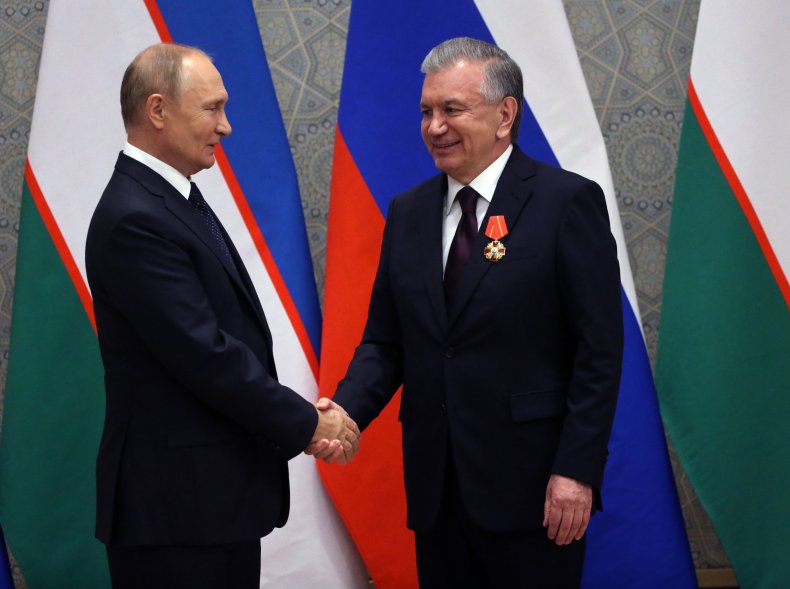 During Putin's ending up in India's Prime Minister Narendra Modi in Uzbekistan, the Indian leader avoided pleasantries and hugging the Russian president. Modi, however, raised his concerns about Russia's invasion of Ukraine.
"Today's era isn't among war, and I've talked for you concerning this on the telephone many times…in the coming days, how exactly we move towards the road of peacewe will certainly have a chance to discuss this," Modi said, in accordance with a translation from Brookings Institute senior fellow and The India Project Director, Tanvi Madan.
Putin told Modi he is aware of his concerns concerning the Ukraine war, adding that the concerns are shared by Russia and that "we wish all this to end as quickly as possible.