World
Putin Really wants to 'Destroy' Ukraine, War to Last 'Long Time': Exiled Oligarch
Exiled Russian oligarch Leonid Nevzlin said within an interview published on Saturday that Russian President Vladimir Putin doesn't desire to annex Ukraine, but to "destroy it" instead.
Nevzlin's comments came within an interview with THE DAYS of Israel, where the former vice president of the oil company, Yukos, that was split up by the Russian government in the first 2000s, said that, initially, Putin "was targeting the renewal of the Soviet model and the annexation of Ukraine, Moldova and Belarus to Russia." However now, "everything has changed."
"Putin is wanting to destroy Ukraine. We understand it out of this unbearable violence and the horrific nature of the war," Nevzlin told the web newspaper. "He destroys Russian-speaking cities, he destroys humans. That is his solution to take revengeagainst Ukraine and against [Ukrainian President Volodymyr] Zelensky. He slaughters Ukrainians and destroys the infrastructure. Anyone mixed up in restoration work will need to clear the rubble and build from scratch."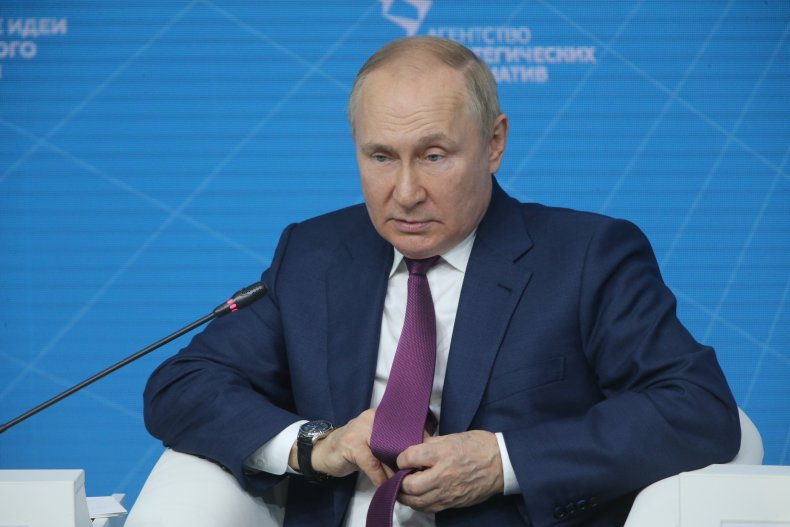 The exiled oligarch said that there have been "rumors" that Putin initially sought to divide assets in Ukraine, but said that when "which were the case, he wouldn't have destroyed" the Azovstal steel plant, but rather "could have taken it over to be able to later pass it to his associates."
The plant was the website of the last holdout against Russian forces in the Ukrainian port city of Mariupol this spring. Footage of the plant that has been taken after Ukrainian fighters surrendered showed it severely damaged with debris strewn over the ground.
"Did you start to see the field in Donbas that has been sown with bombs and explosives? That's his vision for Ukraine. The war will continue for a long period," Nevzlin added, who fled Russia for Israel in 2003 as many of his colleagues were arrested by Russian officials.
In March, in the wake of the invasion of Ukraine, the exiled oligarch renounced his Russian citizenship.
Newsweek has already reached out to the Russian Foreign Ministry for comment.
Last month, another exiled oligarch, billionaire Mikhail Khodorkovsky, said that Putin is heading toward his downfall along with his invasion.
"If he wins now in Ukraine, he'll, due to domestic problems, take up a war with NATO. And finally he'll lose that war," Khodorkovsky told the Financial Times. "Had it not been for so many casualties, I'd have said that I'm actually quite happy, because he's got embarked on a route that will result in his demise. But this type of victory in Ukraine depends entirely on the West."