Entertainment
'Sono Bisque Doll wa Koi wo Suru' TV Anime Gets Sequel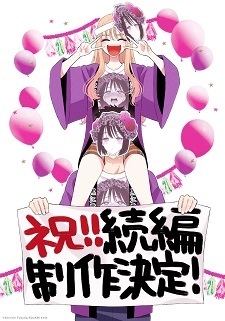 The official website of the Sono Bisque Doll wa Koi wo Suru (My Dress-up Darling) television anime announced an anime sequel on Saturday, revealing a promotional video. Original creator Shinichi Fukuda drew an illustration celebrating the announcement (pictured).


Produced by CloverWorks, the television anime aired in 12 episodes in Winter 2022. Crunchyroll and Funimation simulcast the first season with subtitles and subsequently with an English dub.


Sono Bisque Doll wa Koi wo Suru adapts Fukuda's romantic slice of life manga, which started in Young Gangan magazine in January 2018. Square Enix shipped the ninth volume on March 25 and scheduled the tenth volume for a September 24 release.


Square Enix also began releasing the manga in English under its Manga & Books imprint in April 2020. The publisher shipped the sixth volume on August 16.


Synopsis

High school student Wakana Gojou spends his days perfecting the art of making hina dolls, hoping to eventually reach his grandfather's level of expertise. While his fellow teenagers busy themselves with pop culture, Gojou finds bliss in sewing clothes for his dolls. Nonetheless, he goes to great lengths to keep his unique hobby a secret, as he believes that he would be ridiculed were it revealed.


Enter Marin Kitagawa, an extraordinarily pretty girl whose confidence and poise are in stark contrast to Gojou's meekness. It would defy common sense for the friendless Gojou to mix with the likes of Kitagawa, who is always surrounded by her peers. However, the unimaginable happens when Kitagawa discovers Gojou's prowess with a sewing machine and brightly confesses to him about her own hobby: cosplay. Because her sewing skills are pitiable, she decides to enlist his help.


As Gojou and Kitagawa work together on one cosplay outfit after another, they cannot help but grow close—even though their lives are worlds apart. [Written by MAL Rewrite]


Announcement PV


Official site: https://bisquedoll-anime.com/

Official Twitter: @kisekoi_anime


Source: Comic Natalie