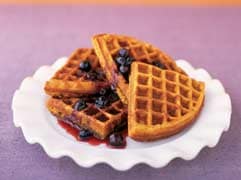 Dietitian's tip:
Leftover waffles could be frozen and popped in to the toaster to reheat. The syrup could keep, covered and refrigerated, for weekly.
To create this plant based, use an egg substitute and replace the honey with maple syrup.
Amount of servings
Serves 6
Ingredients
For the syrup:

1 1/2 cups fresh or frozen blueberries
2 tablespoons water if using fresh berries
1 tablespoon fresh lemon juice
1 teaspoon grated lemon zest
1 tablespoon honey
1 tablespoon light molasses
Pinch of ground cloves

For the waffles:

1/3 cup peeled and diced sweet potato (about 1/3 of a big sweet potato) or 1/4 cup canned pumpkin puree
3/4 cup all-purpose flour
1/4 cup whole-wheat flour
1/4 cup cornmeal, preferably stone-ground
1 tablespoon baking powder
1/2 teaspoon salt
1/8 teaspoon ground cinnamon
1/8 teaspoon ground ginger
1 cup plain soy milk
2 tablespoons light molasses
2 tablespoons essential olive oil
1 egg white
Directions
First make the syrup. In a saucepan, combine the blueberries, water (if using), lemon juice and zest, honey, 1 tablespoon molasses and cloves. Bring to a boil over medium-high heat, then decrease the heat to low, cover and simmer before berries burst and the juices are slightly thickened, about five minutes. Frozen berries might take slightly longer to thicken. Reserve and keep warm.
Peel and dice the sweet potato when you bring a little saucepan half filled with water to a boil. Add the sweet potato, go back to a boil, then decrease the heat to medium low and simmer until very tender, about 10 minutes. Drain and puree in a food processor or mash with a potato masher until smooth. Reserve to cool. (Note: Skip this task if using pumpkin puree.)
In a little bowl, sift together the flours, cornmeal, baking powder, salt, cinnamon and ginger. In a big bowl, whisk together the soy milk, mashed sweet potato (or pumpkin puree), essential olive oil and molasses. Add the flour mixture and stir just until combined.
Utilizing an electric mixer on high speed, beat the egg white until stiff peaks form. For maximum volume, ensure that the mixing bowl and beaters are spotlessly clean and free from fat.
Gently whisk 1/3 of the egg white in to the batter to lighten it. Utilizing a rubber spatula, gently fold the rest of the egg white in to the batter until just incorporated.
Place a baking sheet in the oven and heat to 225 F. Heat a waffle iron. Spoon or ladle about 1/2 cup batter in to the waffle iron. Spread evenly and cook based on the manufacturer's instructions.
Transfer the waffle to the baking sheet in the oven to help keep warm. Repeat with the rest of the batter. Serve waffles with the blueberry syrup.
Nutritional analysis per portion
Meal: 1 waffle with about 1/4 cup syrup
Total carbohydrate

37 g

Soluble fiber

3 g

Sodium

192 mg

Saturated fat

1 g

Total fat

6 g

Trans fat

0 g
Cholesterol

0 mg

Protein

5 g

Monounsaturated fat

4 g

Calories

222

Added sugars

10 g

Total sugars

14 g
Fats

1

Fruits

1

Starches

1

Sweets, desserts along with other carbohydrates

1/2
This recipe is among 150 recipes collected in "THE BRAND NEW Mayo Clinic Cookbook," published by Mayo Clinic Health Information and Oxmoor House, and winner of a James Beard award.