Tech
The Bentley Mulliner Batur Is A $2 Million Goodbye To Gas And A Glimpse Of The Future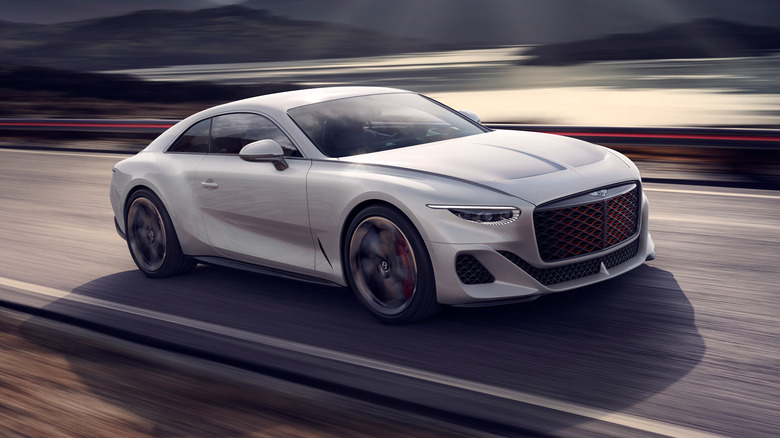 Bentley
Goodbyes can be difficult, so who can blame Bentley for wanting to bid farewell to its now-legendary W12 gas engine with one, final, supremely limited-edition car. The Bentley Mulliner Batur picks up where the Bacalar left off, a coachbuilt two-door grand touring coupe that will be made in vanishingly small numbers for a jaw-droppingly high price. Though there may be a gas engine under the hood, however, don't mistake the Batur for something living entirely in the past.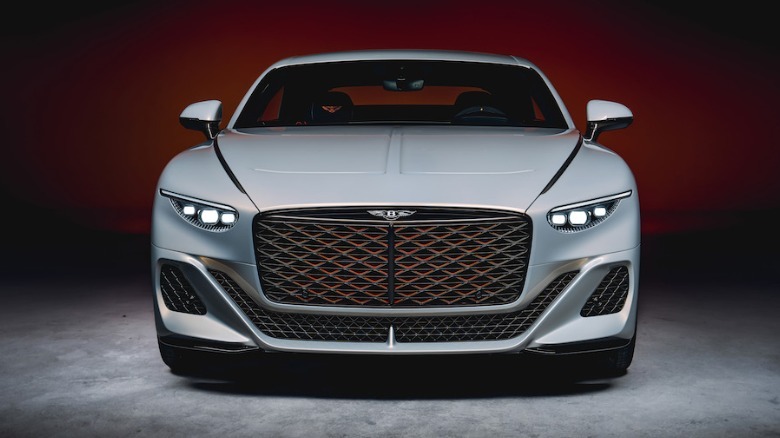 Bentley
Instead, the mere 18 examples preview what Bentley describes as the design DNA for its upcoming surge into electrification. The first fully-electric Bentley will arrive in 2025, a quarter-million-dollar embrace of the fulsome torque and near-silent running that we've come to expect from high-end EVs.
Bentley gave us a glimpse of some of the design ideas it had for that reinvention back with the EXP 100 GT Concept, the all-electric coupe it gave itself as a 100 year anniversary gift back in 2019. Now, the Mulliner Batur leans into that idea even further.
Unmistakably a Bentley, but designed for the future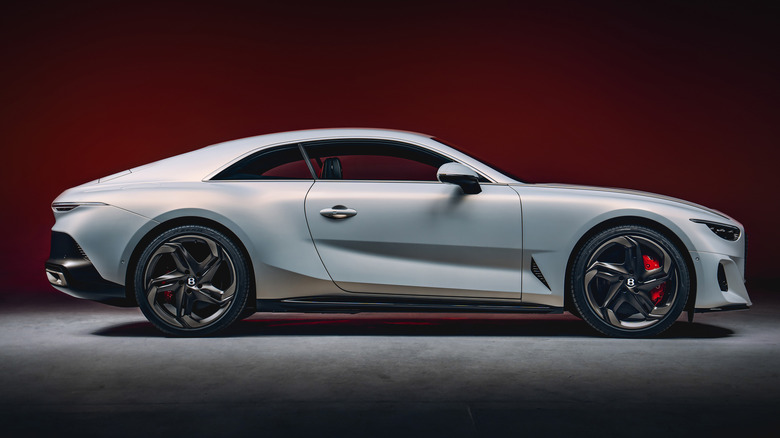 Bentley
It's named after Lake Batur, a vast crater lake in Kintamani on the island of Bali, Indonesia, though the goal is that no Batur car will look the same as any other to bear the nameplate. The core is what Bentley's designers refer to as "resting beast stance" — a big cat, for example, preparing to pounce on some unsuspecting prey. From that ethos, you get the long hood line that stretches into the body of the car, and which helps visually shift its mass toward the rear haunches.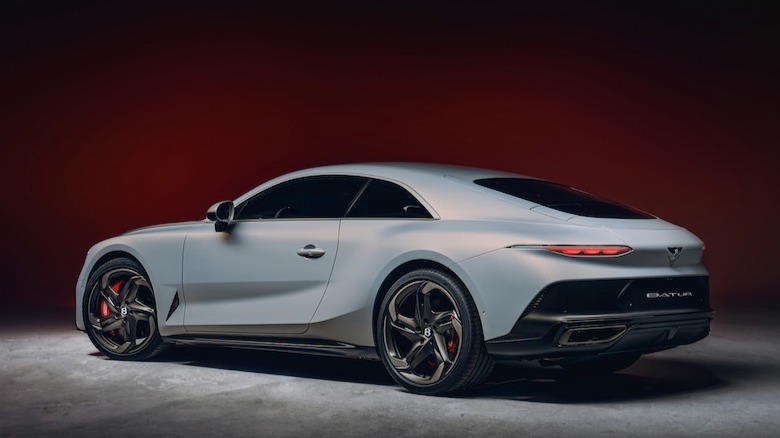 Bentley
It's unmistakably a Bentley, though viewed side by side with a Continental GT from the current range, you can see where things diverge. The grille, for instance, is lower and more upright, while the headlamps have been reshaped to pick up the theme first seen on Bacalar. At the rear, a new taillamp aesthetic brackets a deployable spoiler.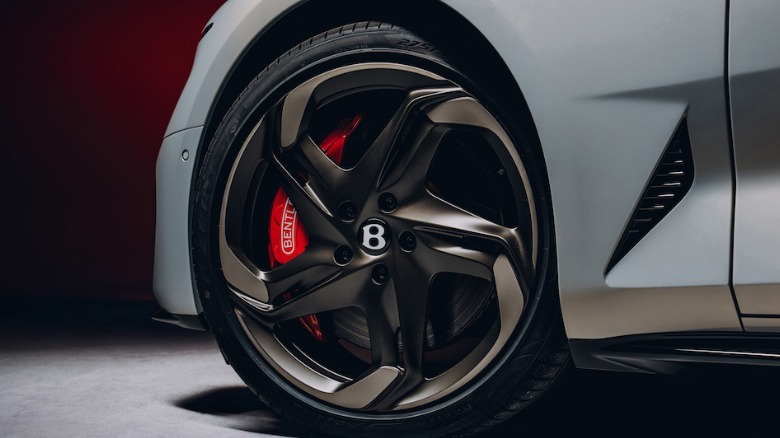 Bentley
However, each of the 18 Batur owners — already selected, and each paying north of $2 million (before taxes and options) for their super-exclusive coupe — will work with Mulliner's team to heavily customize the car. That'll include the ability to specify the color and finish of nearly every surface, inside and out.
Completely bespoke, and priced to match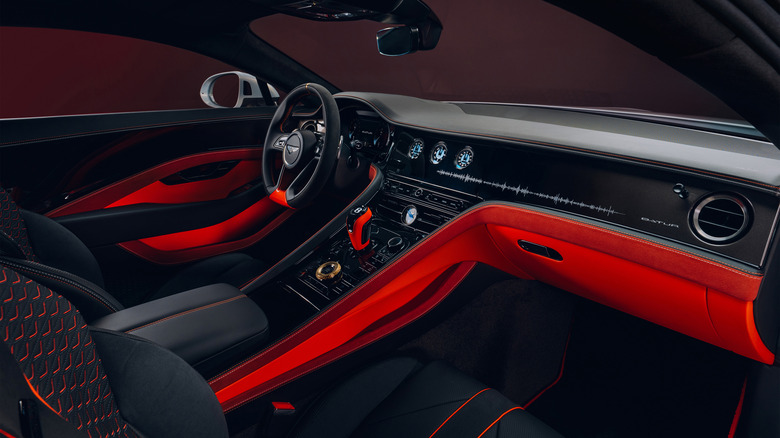 Bentley
Bentley has no shortage of paint colors in its standard, extended, and Mulliner portfolio. However Batur buyers will be able to pick a completely bespoke hue if they prefer, or even hand-painted graphics. There'll be a choice of more traditional materials or modern versions, like carbon fiber or a natural fiber composite for the front splitter, side skirts, and rear diffuser.
The exterior brightwork can be light or dark, or a mixture; finished in satin, gloss, or titanium; the grille can be treated with an ombre effect gradated color. Unique 22″ wheels can be had in machined and polished painted finish, left glossy with satin spokes, or in a contrast or matching hue to the bodywork.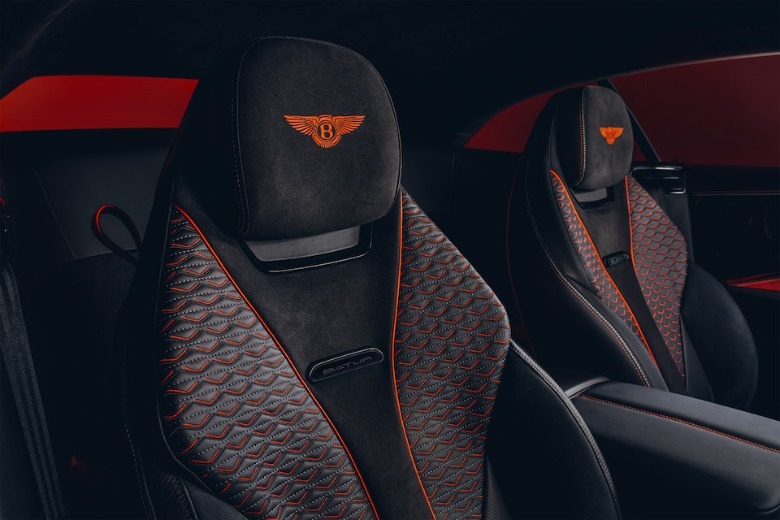 Bentley
Inside, there's seating for two and no shortage of high-end trim. As with the exterior, choice is key, and a decision around sustainability: in addition to Italian sustainable tannage leather, there's low-carbon leather sourced from Scotland for a cut in air miles, plus a Dinamica suede-like fabric for those wanting to avoid traditional hides altogether. More of the natural fiber composite — in a 2×2 twill weave and finished in satin lacquer — can be had, while the carpets match the leather but are made from recycled yarn.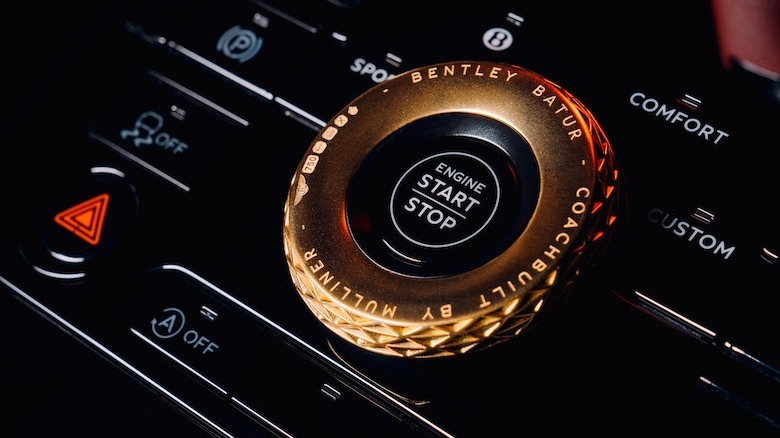 Bentley
It's the detailing where Bentley — and Mulliner particularly — excels. The passenger faces an etching of the W12 engine's audio signature, for instance, while Batur owners will get to choose from bright, dark, or titanium finishes for the brightware trim. 3D printed 18K gold will also be available for select controls, like the ventilation knobs, the Bentley Dynamic Drive Selector, and a 12 o'clock center band on the steering wheel.
The most powerful Bentley… so far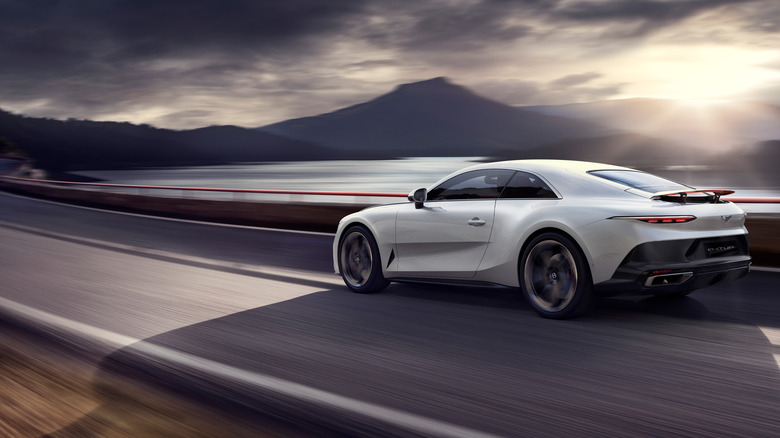 Bentley
While the Batur won't be electrified, neither will it be slow. The 6.0-liter W12 engine will put its twelve cylinders to work delivering more than 730 horsepower and 737 lb-ft of torque. It's paired with an eight-speed double-clutch transmission, all-wheel drive, and an electronic Limited Slip Differential. Bentley's 48V electric active anti-roll system is included, too, as are adaptive three-chamber air springs that can adjust the ride quality according to whether the Batur is set to the Sport, Bentley, Comfort, or Custom drive modes.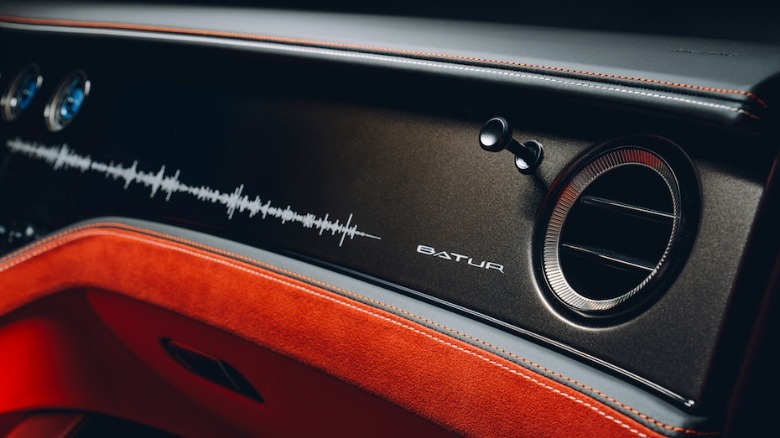 Bentley
Carbon-Silicon-Carbide brakes get vast discs — 440 mm at the front, and 410 mm at the rear — and 10-piston front, 4-piston rear calipers. The sport exhaust system is made entirely from titanium, with 3D printed matching finishers. In all, it'll be the most powerful car the automaker has ever made.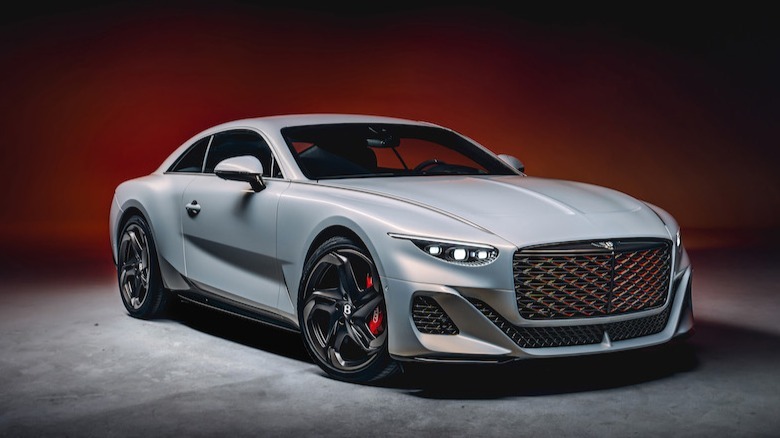 Bentley
At least, for now, anyway. Deliveries of the Bentley Mulliner Batur will begin in mid-2023, but all eyes are undoubtedly also glancing towards the upcoming Bentley EV. That's expected to be capable of doing 0-60 mph in just 1.5 seconds, courtesy of around 1,400 horsepower from its new drivetrain. Eventually, Bentley leadership promise, the all-electric car will have the potential to make you sick with its brutal acceleration; until then, we'll have to make do with being sickeningly jealous of those lucky enough to get the keys to a Mulliner Batur.