Entertainment
Watch Megadeth perform The Sick, The Dying… and The Dead! single We'll Be Back live for the very first time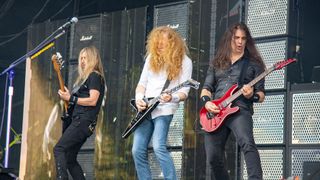 (Image credit: Joseph Okpako/WireImage)
Megadeth have performed Well Be Back, the initial single from their upcoming 16th album The Sick, The Dying and The Dead!, live for the very first time.
After opening their set on Wednesday night (August 24) at the FivePoint Amphitheatre in Irvine, California with Hangar 18 and Dread and the Fugitive Mind, the thrash metal heavyweights launched into Well Be Back to a rapturous response from the crowd. Watch the performance below.
Megadeth are getting into a US tour supporting NEVADA metallers Five Finger Death Punch.
Despite a string of shows after its June release, Well Be Back has only now been put into Megadeths live setlist. Night Stalkers and Soldier On! two more singles which have been released since are yet to be performed live.
Frontman Dave Mustaine explained the bands process behind setlist planning in a recently available interview with Milwaukees 102.9 The Hog radio station.
We have been adding two songs to your set; we have been adding Night Stalkers and Well Be Back, he said (transcribed by Blabbermouth (opens in new tab)). Hopefully well have the ability to add Soldier On! at that time too. But plenty of that's dictated by the air support and the listeners tastes. When certain songs our fans prefer to hear, well add them in to the setlist if we are able to.
If theres a song which were playing in the setlist and folks arent giving an answer to it, well, obviously were gonna do the contrary and remove it of the setlist. That is all area of the showbiz part. Many people dont value that; they just wanna rock.
The Sick, The Dying and The Dead! Will arrive in a few days on September 2.
Following longtime bassist David Ellefsons departure from Megadeth this past year, his bass parts for the album were scrapped and subsequently re-recorded by Testament bass player Steve Di Giorgio. The bands former bassist James LoMenzo happens to be using them on tour.
Within an interview in the brand new problem of Guitar World, Dave Mustaine reflects on the departure of Megadeths former guitarist Marty Friedman with a feeling of regret.
Friedmans exit from the band came after tension over a guitar solo on the 1999 album, Risk. Essentially, their management didnt have the solo he previously written for the records fifth track, Breadline, was right for the song.
I said [to management], Well, you have three choices. Either you mute the solo completely, have Marty keep coming back and redo it, or I really do it, Mustaine remembers. And I said, EASILY take action, youd better simply tell him. Well, I redid it and nobody told Marty.
So were within hearing the finished album and the solo occurs. Its my solo, not Martys I viewed him as tears ran down his face and I knew immediately that nobody had told him. I knew that has been likely to function as end of Marty Friedman.
He continues: What happened to Marty was not at all okay. Our management was likely to simply tell him and, for reasons uknown, they didnt take action. I think that has been a terrible move to make to him.
Many thanks for reading 5 articles this month*
Join now for unlimited access
US pricing $3.99 monthly or $39.00 each year
UK pricing 2.99 monthly or 29.00 each year
Europe pricing 3.49 monthly or 34.00 each year
*Read 5 free articles monthly with out a subscription
Join now for unlimited access
Prices from 2.99/$3.99/3.49
Sam is really a Staff Writer at Guitar World, also creating content for Total Guitar, Guitarist and GUITARIST. He has more than 15 years of guitar playing under his belt, in addition to a degree in Music Technology (Mixing and Mastering). He's a metalhead through and through, but includes a thorough appreciation for several genres of music. In his free time, Sam creates point-of-view guitar lesson videos on YouTube beneath the name Sightline Guitar (opens in new tab).