World
Woman Not Giving up Her Bed for Boyfriend's Sick Child Leaves Internet Torn
Debate sparked after a woman refused to give up her bed for her boyfriend's sick daughter.
Published to Reddit's r/AmITheAhole forum, a woman under the anonymous username u/aitagiveupbed shared her story to get opinions from the "AITA" community. The viral post has over 8,000 upvotes and 3,000 comments.
The original poster (OP) began her post by explaining that a wildfire recently broke out near her boyfriend's home and they had to be evacuated. During the evacuation, the OP encouraged her boyfriend to bring his three daughters to her apartment. He wasn't home at the time since he was at the hospital getting treatments for his eldest daughter since she has health problems. The other two were with the live-in nanny, so she brought them over.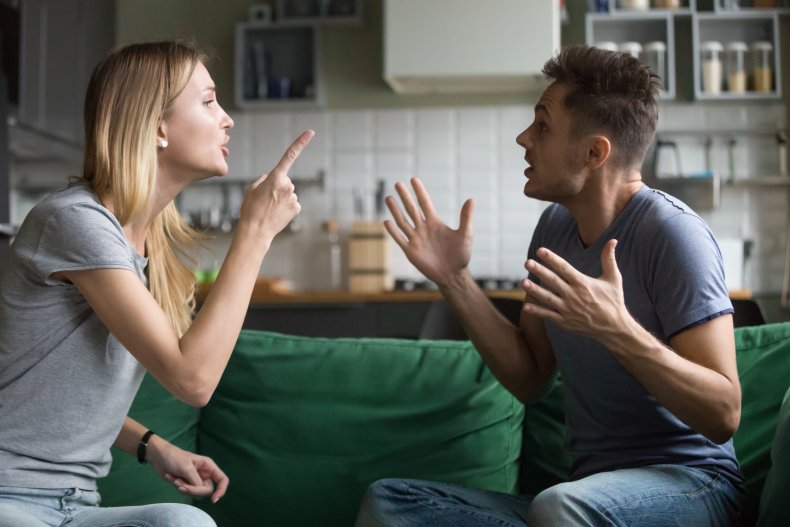 When he arrived, he was carrying his daughter since she was asleep. The OP got the guest room prepared for the kids and the nanny to stay as she has two bunkbeds for when she babysits her brother's children. When she told him about it, he didn't want his daughter to be woken up or bothered by her siblings so he suggested her bed.
The OP said, "I asked if he meant only for a few hours and he said no, the whole night. I asked where we were supposed to sleep and he said we can sleep on the pull out couch. I said I wasn't giving up my room so his 12 year old can have her own room and he left with the kids and nanny.
"Now he's saying he needs to rethink this relationship because I wouldn't sleep on my couch for one night to let his daughter rest without her siblings waking her up and bothering her," she concluded.
Newsweek reached out to u/aitagiveupbed for comment.
Newsweek has published several articles about conflicts in relationships including a woman who was backed online for snapping at her boyfriend for wanting alone time and rage breaks out after a man tried to give his girlfriend's concert ticket to his cousin's friend.
What to do if you are being evacuated due to a wildfire
Between the years 2012 to 2021, there were over 61,200 wildfires that impacted over 7.4 million acres of land, according to the Congressional Research Service. The most common states that are considered high risk of extreme wildfires include California, Montana, Texas, Idaho, Colorado, Arizona, Washington, Oregon and Nevada, according to the Insurance Information Institute.
You just got the news from local authorities that you are being evacuated due to a wildfire, what should be your next plan? Readyforwildfire.org has created an emergency supply list. The checklist includes:
Face masks or coverings
Three-day supply of non-perishable foods and three gallons of water per person
Map marked with two evacuation routes
Prescriptions or other special medications
Change of clothing
Extra eyeglasses or contact lenses
Flashlight
First aid kit
Extra set of car keys, credit cards and cash
Copies of important documents: birth certificates, passports etc.
Redditor reactions
"[No aholes here]. Parenting is a tough topic to broach. Personally I think a lot of parents coddle their children beyond belief. That said – it's their choice. This sounds like it may just be a compatibility issue. Personally, I'd side with you. But I know a lot of parents that would be in his camp of doing 'anything' for the children, for even the smallest of things," u/SDstartingOut wrote, receiving the top comment with 12,000 upvotes.
"[Not the aholes]. The 12 year old and the nanny could have taken the room with the bunk beds with the 2 youngest on the pullout. It was unreasonable for him to demand you to give up your last bit of personal space when it was unnecessary," u/HardWorkinMerkin said.
"[Not the ahole] – you opened your home to them, adjusted your life for them, declining to sleep on the pullout as well does not make you an ahole. It might mean you are not as nice or as accomodating as other are or that others expect you to be. It may, however, have consequences, even if you were not wrong. It may still be something you want to consider changing your stance on and apologize about," U/Suitable_Pickle5547 exclaimed.
"A 12 year old with health issues so bad shes sleeping in her father's arms when they came in the door and your not willing to give up your bed for the night? I hope you never have to experience what having chronically ill child is like [You're the ahole]," u/MJM20 commented.